Jailbreak iOS8
January 13, 2015
In our past article we explained that jailbreaking your device is useful and safe. And if you want to install OwnSpy on your iPhone or iPad you will need to jailbreak it in the first place.

The past September of 2014, Apple published the latest version of its operating system for mobile devices, iOS8, which add a lot new features and improvement since iOS7 like Handoff, Photo editor, Spotlight, Improved Messages app, Carplay and a lot more.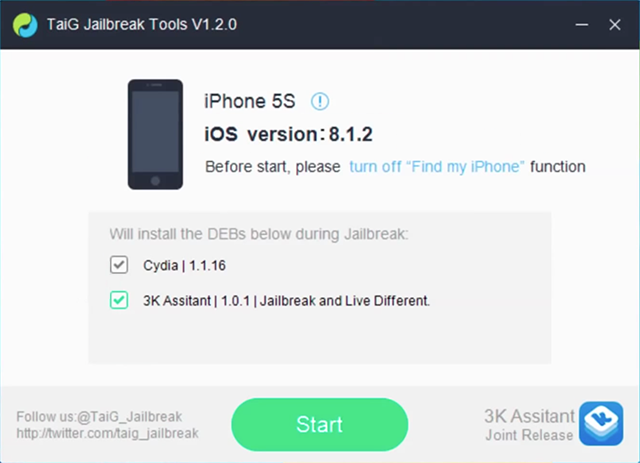 A couple of months after this new release a new Chinese group called Pangu published the first Jailbreak for iOS8, which was compatible with both 8.0 and 8.1 but Apple fixed the bug on a new version with 8.1.1. Then was when, another Chinese hackers group called Taig, released its own Jailbreak tool compatible with all the iOS8 versions available up to the date.

In order to perform the jailbreak with Taig you will need a Windows PC because tehere is no version for Mac by the time being. Please follow this steps to complete the jailbreak easily:

1.- Update your device to the latest iOS version 8.1.2 and make sure you have a backup of your device on iCloud or iTunes, just in case somehting goes wrong.
2.- Download the jailbreak tool from this address
3.- Open Taig and connect your device to the PC.
4.- Make sure the checkbox "Cydia" is checked. The other one, "3K Assitant" is only useful if you are a Chinese user, you can unchecked otherwise because this will install a Chinese app store.
5.- The device should be recognized as you can see on the image and we could jailbreak it by pressing the button START.
6.- Please wait until the jailbrek is completed, once it is done you can open Cydia on your device and now you can install OwnSpy.




As you can see jailbreak your device is really easy and safe. If you want to remove the jailbreak just restore the device from iTunes and all trace of the jailbreak will be gone.

Did you jailbreak your device yet? ;)

Basic plan is now FREE!
Now you can use OwnSpy for free forever with a limited bunch of features. OwnSpy is the only mobile monitoring app that allows you to use it for free. You can monitor your kids, know their whereabouts, the websites they visit and even block certain apps. All of this and more is completely free. If you need more features like Geofencing, WhatsApp, Pictures, etc you can go ahead and upgrade your plan.
PREMIUM
---
---
30 days - 2€ /day
1 year - 16€ /month

If you have a discount code click here

Taxes are included